There are a crop of companies opening up in downtown Manhattan that rent communal offices tailored to individuals and startup companies. Crain's reports that WeWork rival Cowork|rs two months after signing a lease for nearly 30,000 square feet at 55 Broadway has signed a lease for about 40,000 square feet at 60 Broad St. The company is adding the location to create a place for more established office tenants and companies that outgrow its other facilities.
Just this morning I was invited to take a tour and engage (unbeknowst to me) in a 40 minute meditation session of LMHQ, which located next to my office at 120 Broadway. LMHQ sells itself as a space to brainstorm, socialize, network and collaborate. Here is the group ready to get focused.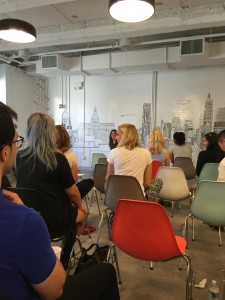 LMHQ is trying to differentiate themselves from the competition by billing themselves as an extension of your workplace with additional amenities such as event space, a coffee shop and a living room.
What do you think of co-working spaces? Have you ever worked in one? What are you thoughts on LMHQ? Do you think they will succeed or are there just too many of them?